Helping You Save Money, Time and Energy
At SeaGate Homes, we are always working to improve our building techniques, find the best materials and build our customers a home for their life. Over the life of your home, our best practices will help you save time, money, and energy while keeping you and the planet healthier and happier.
Energy Efficient Features
Block Construction  
 
Homes built with concrete block are highly durable, fire-resistant, noise-reducing, energy-efficient, and resistant to insects and vermin. Paired with the proper insulation, windows, and doors, a concrete block home can keep your home comfortable, safe, and cost-effective for many, many years. 

R 8.8 Rated Block Wall Insulation  
 
One of the major sources of heating and cooling loss is through walls. Proper wall insulation will reduce energy consumption, improve air quality, increase sound reduction, and help deter mold and pests. 

R-38 Ceiling Insulation  
 
Ceiling insulation is the crown on the insulation process and can reduce your heating and cooling costs by 40% or more. It also helps reduce moisture and mold growth, increases the indoor air quality, and inhibits the spreading of flame and smoke.

Double Pane, Low-E Windows 
 
Low-E, which stands for Low-Emittance, is a thin, non-toxic coating applied to window glass that reflects radiant infrared light (heat) from the sun and keeps it from entering your home, while still allowing natural (visible) light to shine through. This protects you and your furnishings while reducing energy costs. Double-pane windows also offer increased efficiency and noise reduction, all while being better for the environment.
Insulated Fiberglass Masonite ® Exterior Doors 
 
Masonite® fiberglass doors offer low maintenance and excellent weather resistance so they will not rust, rot or dent. Masonite® fiberglass doors are also Energy Star compliant and built to reduce noise and withstand high wind pressure.

Sherwin-Williams® Low VOC Paint  
 
At SeaGate Homes we exclusively use Sherwin-Williams® Low VOC Paint. Volatile Organic Compounds, or VOCs, are unstable carbon compounds that can easily vaporize and lead to air pollution. Using low VOC paint not only improves the indoor air quality in your home but is easier to clean and lasts longer.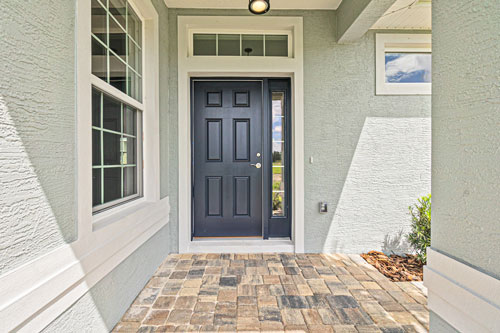 Pre-Wiring for Phone, USB, TV/Cable, and Ceiling Fans/Lighting 
 
Pre-Wiring offers many aesthetic and money-saving benefits. Having a "wire-free" environment, not only looks cleaner but also reduces the tripping and shorting hazards of traditional wiring. Pre-wiring also allows for a centralized control for outlets and eliminates the need to have additional holes in the walls.

Samsung® Appliances 
  
SeaGate Homes has partnered with Samsung® to offer you an array of appliance styles and colors that maintain the high-performance standards synonymous with the Samsung® name.

Tile Underlayment 
 
You will probably never see it, but what is under your tile can be just as important as the tile itself. Self-adhering tile underlayment is a thin, flexible, lightweight, load-bearing membrane that sits between the slab and your tile and helps isolate and prevent cracks due to moisture, temperature changes, and slab settling.
3000 PSI Foundation/Structure Enforcments  
 
A strong foundation is key to building a great home. Our monolithic concrete slab foundations are reinforced with fiber-mesh mixed into the concrete, anchored with load-bearing footings with steel rebar to keep your home standing strong for years to come.

Foundation Termite Protection  
 
Termites may not an issue for the concrete parts of your home, but the inside of your home still contains wood framework. Florida has one of the largest populations of termites in the US and termite damage is not covered under homeowner's insurance. We help you protect your home from the beginning by building the termite protection right into your home.

Foundation Vapor Barrier  
 
To protect the life of your home, we start at the bottom with a foundation vapor barrier. Designed to resist the flow of air, restrict moisture, and reduce mold, odors, and pests from entering your home, the vapor barrier improves air quality, helps maintain temperature, and protects your floors.

Carrier® 15 SEER HVAC System   
 
The Seasonal Energy Efficiency Ratio, or SEER, measures the cooling and heating efficiency of a Heating, Ventilation, and Air Conditioning (HVAC) system over a given season. Much like the MPG rating in your car, the SEER rating refers to the top efficiency an HVAC can provide. The higher the rating, the better the efficiency. The Carrier® HVAC system is Energy Star rated to help keep your energy consumption and cost low and your comfort and air quality high.  
50-Gallon Water Heater  
 
For a typical household of four to six people, a 50-gallon water heater provides more water than a standard tank with minimal increase in energy consumption and will usually cost less over time as it is less likely to run out of hot water.  


Water-Conserving Toilets and Showerheads   
 
Water is one of our most precious yet overused natural resources. The EPA lists flushing and showering as responsible for 50% of the average home's water consumption. Water-conserving fixtures can save approximately 16,000 gallons of water each year, saving you hundreds annually.

Moisture-Proof Cement Board In Baths/Showers   
 
Bathroom conditions are usually wet and humid no matter the weather outside. To keep your bathrooms healthy and safe, a moisture-proof cement board is used to reduce mold and mildew inside your walls, reduce damage from moisture build-up, and maintain your air quality. 

Exhaust Fans Vent to Exterior  
 
Exhaust fans in the kitchen and baths are vented to the outside to help maintain in-house air quality by pushing fumes and odors outside of your home.

Algae Resistant Shingles   
 
Algae growth cannot only ruin the look of your home by staining your roof, but it can also reduce the shingles' ability to reflect heat and cause cracks that encourage the growth of moss, bacteria, mold, and mildew and can eventually lead to leaks and other damage. The 30-year Algae Resistant Shingles used on SeaGate Homes can stop algae before it starts and provide your roof a very long life.  

Industry-Leading 15-Year Structural Warranty 
 
SeaGate Homes is dedicated to maintaining the highest quality standards and while your home was carefully constructed and inspected, occasionally unforeseen problems arise, even in the best-built homes. This is why all SeaGate homes are backed by an industry-leading 15-year Structural Warranty. For more information, please see our Warranty Info page.